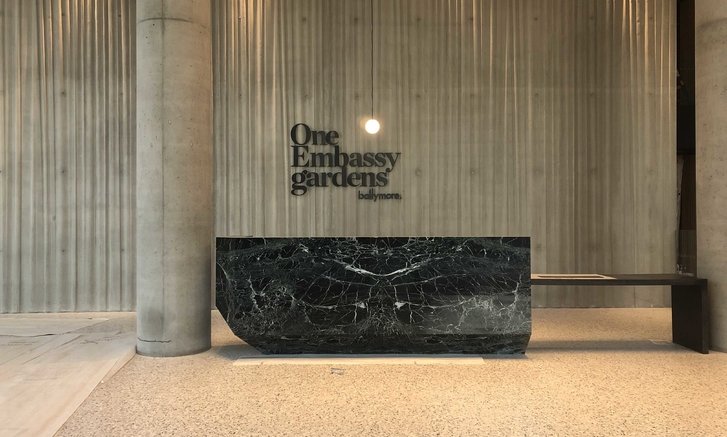 The publishing giants, currently ensconced at 80 Strand, will relocate to the new neighbourhood between late 2019 and early 2020. Alongside the Strand office, the Ealing office will also be vacated, while the Vauxhall Bridge Road office, just across the river from the new location, will continue to operate.
Penguin's new hub will be at One Embassy Gardens and provide the company with a whopping 83,400 square feet of bright and airy workspace, spread over five floors. The new building will provide HQs for publishing houses Michael Joseph and Penguin Random House Children's (both of which were based at Strand), as well as Transworld and Vintage, which will be moving from Ealing and Vauxhall Bridge Road respectively. Penguin's two offices will have 600 staff each, and will share departments including Legal & Contracts, HR, Publishing Operations, and Sales and Technology. Tom Weldon, CEO of Penguin Random House UK, will be dividing his time between both sites.
Weldon commented on the relocation: "This move provides an opportunity for all of our teams to work together even more closely as one company. This is about much more than just bricks and mortar. We want to use our new workspace to build a creative culture for the future that will help us to attract and retain the very best talent. We believe this will place us in the best position to explore new ways of connecting our authors and readers, as well as attracting and supporting the best creative talent from across the country."
He added, "This is not just about where we work, but also about how we work together in the future. The leadership team and HR are working with colleagues to prepare for the changes ahead and next steps..."
The company worked with architects Perkins + Will to design fresh new workspaces for both One Embassy Gardens and the Vauxhall Bridge Road offices. And the spaces will be a celebration of the unique identities of the company's publishing houses, as well as the shared ethos of Penguin Random House as a whole.
Penguin's Nine Elms relocation follows the American Embassy's move to SW8 last year, as well as a slew of creative companies, including Apple, whose new UK headquarters occupies 500,000 square feet at Battersea Power Station.
Ravi Govindia, leader of Wandsworth Council, said of Penguin Random House's move: "It's excellent news that another world-class institution is moving to Nine Elms. It will open up opportunities for our residents and encourage other creative, publishing and digital industries to join them."
Indeed, Nine Elms has slowly been solidifying itself as one of London's most happening hubs. Alongside its mix of creative companies, the area's arts scene is booming, with a number of hip galleries and venues opening up, including the Village Hall at Battersea Power Station. While construction on a state-of-the-art building for the Royal College of Art's Battersea Campus is well underway too. The £50m construction is intended for postgraduate students and entrepreneurs and is part of is a £108m investment by the RCA for its future in Battersea.
Mr Govindia summed up Penguin's move and Nine Elms' flourishing future with: "This, together with the extension of the Northern Line to Battersea, will draw in skills and investment and help create employment. We will continue to work with schools, and through our Work Match service, ensure our young people are best placed to make the most of these new opportunities."