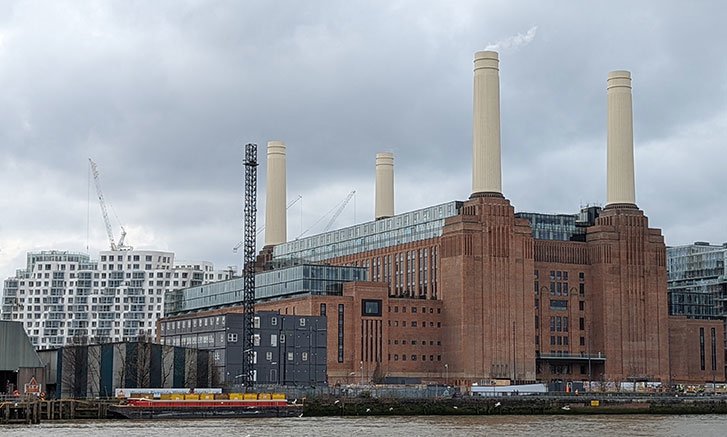 Over the last few years, we've written a lot about new apartments at the iconic Battersea Power Station development and where to eat if you're in the area, including the Circus Village West restaurants such as Megan's, and places like Tonkotsu and Cinnamon Kitchen under the railway arches.
But from September, you'll have even more choice, as the Turbine Hall will open its doors to visitors and you'll be able to enjoy a number of cool British and international restaurants, cafés and coffee shops.
So what's on the menu?
Le Bab
Famous for their high end kebabs with a modern twist, Le Bab has restaurants in Soho, Covent Garden and Dalston, and is a welcome addition to the south of the river. Expect casual Middle Eastern and Asian-influenced dishes cooked over charcoal and wood and made from the best ingredients.
"Housing one of our places in such an iconic, inspirational piece of architecture is a bit of a dream and we feel really lucky to be a part of the Battersea Power Station story...Seeing it all evolve and develop from the inside has been an incredible journey!" Stephen Tozer, co-founder, Le Bab.
Paris Baguette
Not a French patisserie as you might expect but a huge – and famous - Korean bakery company that operates more than 4,000 sites globally. Battersea Power Station is their first UK store. Alongside the usual croissants, pain au chocolats and coffee, expect red bean bread, pineapple brulee pastries, curry croquettes and sweet rice doughnuts.
Poke House
Europe's biggest poke chain, Poke House combines the heavenly tastes of Hawaii and the soul of California to bring you big bowls of healthy, flavour-packed goodness. Dishes such as Sunny Salmon include sushi white rice, salmon, edamame, avocado, red cabbage and sesame seeds.
"I am thrilled to be opening Poke House in such a vibrant and inspiring location. Poke House is rapidly expanding throughout the world, with stores in five different countries and in each one we are preparing delicious, handmade, healthy products giving our customers the option to dine guilt free. We believe Battersea Power Station is the perfect location for our store..." Matteo Pichi, co-founder and CEO of Poke House.
Where The Pancakes Are
Where The Pancakes Are will open its third London site at Battersea Power Station, making it easier for pancake fans everywhere to get their hands on their famous fluffy delights. Expect everything from pulled beef pastrami and banana marshmallow pancakes. There are even dairy-free and wheat-free options too.
"We love being part of an exciting urban landscape and community. With two restaurants in quintessential London destinations, near Borough Market and Charlotte Street, to open our next one in Battersea Power Station is the stuff of dreams...We're immensely proud to have been invited to join this titanic masterpiece and will add our bit by doing what we're really good at: nourishing pancakes, great coffees and uplifting cocktails." Patricia Trijbits, founder, Where The Pancakes Are
Clean Kitchen Club
The ever popular Clean Kitchen Club will also be serving up their plant-based options from Battersea, which is their seventh UK outlet. Expect delicious vegan food from burgers and burritos, to acai bowls and pastries, to salads and smoothies.
"Having grown up just across the river, opening a restaurant inside an iconic London landmark, which I've seen transform into a new neighbourhood over the years, is a real pinch-me moment! Serving good tasting and healthy plant-based food is our heartland and we can't wait to invite people through our doors at Battersea Power Station..." Mikey Pearce, co-founder and CEO, Clean Kitchen Club.
Gordon Ramsay's Bread Street Kitchen and Bar
Bread Street Kitchen and Bar joins Gordon Ramsay's other eatery in the area, Street Pizza which is situated under the arches. At Bread Street, expect traditional British dishes, including beef Wellington and fish and chips, as well as juicy steaks on the grill.
For those seeking just liquid refreshments or a quick bite, Joe the Juice will also be offering freshly squeezed juices and healthy sandwiches. While the ubiquitous Starbucks will be serving it's range of coffees.
"Battersea Power Station has emerged as one of London's leading food and drink destinations and this will only become stronger with the great mix of cafés, bars and restaurants opening inside the Power Station," said Sam Cotton, head of leasing for Battersea Power Station Development Company. "...we are delivering something incredibly unique for the capital and are confident visitors to Battersea Power Station will be excited by the variety of cuisines that will be on offer."
The restaurants are due to open in the autumn, followed by more than 100 retailers such as Ralph Lauren, Tommy Hilfiger, Aēsop, Calvin Klein, Hugo Boss, MAC Cosmetics and Space NK in 2023.
Getting around
Battersea Power Station now has its very own Zone 1 Tube station on the Northern Line extension, so it's easier than ever to get here. It's just 15 minutes from the West End and then a short walk to the riverside. Or arrive by boat on an Uber Boat by Thames Clipper. It's just 15 minutes from the Embankment. Or jump on a train. Queenstown Road Battersea and Battersea Park are only 10 minutes' walk away from Battersea Power Station.